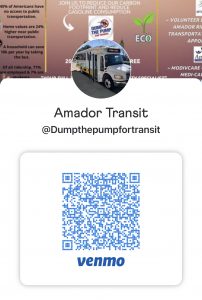 Please note the following:
Drivers cannot make change. Exact fare, ticket or monthly pass is required.
Daily passes ($7.00), good for unlimited rides on local routes, may be purchased from driver.
No cash? Use our Venmo!
Valid ID required for Reduced Fare.
Monthly passes and prepaid tickets may be purchased at the Sutter Hill Transit Center, 115 Valley View Way, Sutter Creek, 95685.
Summer Break Youth Bus Pass.
Kids ride during summer break for only $40. Call 267-9395 for more details.
Fare Schedule